Sessions run weekly from 9:00Am - 3:00PM
Ages 6 - 12
Our Mission is to provide a rich environment for kids to learn, grow, and form bonds within their community. Enroll your camper today, and get excited about the world around you!
We invite you to explore this page to meet the counselors, along with other important camp information!
Register for Multiple Sessions Here
Camp Activities Menu
Our list of classic camp activities includes gardening, swimming (with certified lifeguards at all times), arts and science projects, fishing and more. We are also offering the unique experience of getting to care for nine alpacas, 15 chickens, and our whole flock of ducks. In addition, campers will help raise ducklings and chicks! This summer is going to be one for the books!
Gardening
Optional Swimming (with certified lifeguards at all times)
Arts and science projects
The unique experience of caring for nine alpacas, 15 chickens, and our whole flock of ducks! This includes working with real alpaca fiber to create various alpaca fiber arts
Fishing & boating
Storytelling and haiku creation
Theater and dance
Olympic games catered around the interests of each group of children (possible sports and activities include track and field, flag football, frisbee, basketball, soccer, swimming, kickball, softball, and disc golf
The sample schedule below is to give a ballpark idea of some activities offered in a week.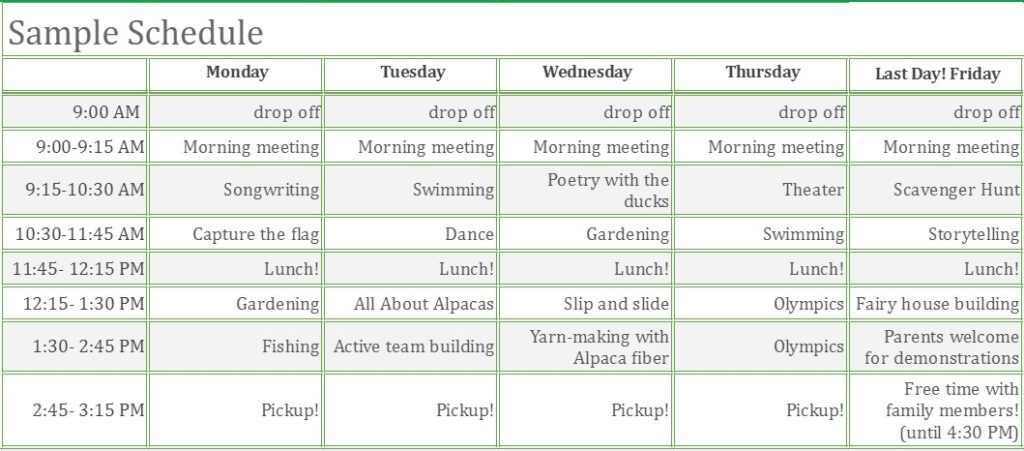 Necessary Considerations
• Campers must must pack a lunch, snack, and waterbottle.
• Regarding peanuts and tree-nuts, we are not a nut free camp. However, we are a nut aware camp that will take special precautions for children with nut allergies.
• This camp is technology free. Counselors will not be using phones either! Counselors will be taking photos of campers each day and providing access to these photos at the end of each week.
• All children's individual swim needs will be met. Unless we are presented with proof of swimming ability from the parents or guardians, all children will need to pass a swim test to swim. This will consist of jumping into the deep end, swimming a full lap of the pool, and treading water for one minute directly after the full lap.
• Coronavirus concerns are a top priority. Children will be socially distanced when possible, will be sanitizing hands multiple times a day, and mask usage will be required and constantly supervised.
Written as of February 2021, subject to change.
Barnyard Summer Camp Overview and Cancellation policies.
Director/Counselor
Keilan Barber, a speech pathology undergraduate student nearing graduation with multiple years of summer camp counseling experience.
Office Manager
Sharlene Bund, Office Manager and Owner of Sugars Bridge Farm and Cerca Trova Yoga for over 10 years and teaching yoga for over 20 years.
Counselor
Ben Savitz, a college baseball player majoring in graphic design at Temple's Tyler School of Art. Ben is a superb artist and extraordinary photographer.
Counselor Molly Thornton, an Ithaca College graduate with a degree in Theatre Arts Management, who has since worked as an event coordinator for music festivals nationwide.
Junior Counselor
Jessica Ayers, a sophomore in highschool who's been dancing for over 10 years, has tons of babysitting experience, is excited for this summer, and is betting that she will beat counselor Ben in a race this summer!
Junior Counselor
Annalie Ayers is a senior in high school who has spent 11 years (more than half of her life) dancing ballet. She loves working with kids (seems to have a supernatural talent in that field) and loves spending time outdoors.